Have you plunged into an ElderCounsel Immersion Camp yet? Now is the time. All of our popular camps are available in-person this August and September.
ElderCounsel Immersion Camps give attendees an EDGE over their competitors. The ElderCounsel EDGE™ is elder law, Veterans benefits planning, and special needs planning delivered in a unique and impactful way through Education, Demonstration, Guidance, and Execution. The experience and benefits of our in-person education will transform your business and provide you with a competitive advantage.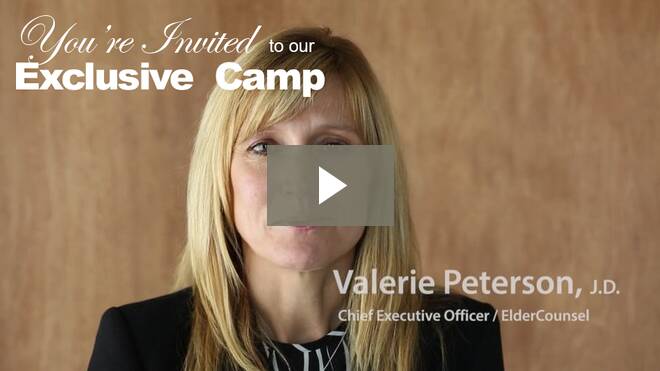 Elder Law Immersion & Practice-Building Camp
August 21-23 in Chicago, IL | View Agenda | Register
In this three-day camp exclusive to ElderCounsel members, you will learn the legal and technical rules pertaining to crisis and proactive Medicaid planning. You will also be introduced to marketing and practice building structures to give you the knowledge and confidence to take on clients right away!



Up to 13.25 CLE, 1 Ethics
Already an Elder Law Immersion Camp graduate? Attend our NEWLY Revamped program:
Elder Law Masters Course
August 24-25 in Chicago, IL | View Agenda | Register
Our first day will focus on revenue opportunities that are right in front of you. With a unique combination of brainstorming strategies and learning exercises, you'll leave this day with a clear path to higher revenues and a thriving practice.
On day two,
you will select a track that best suits your experience level:
Track #1: Elder Law Masters (Advanced)
Track #2: Elder Law Masters-In-Training (Beginner/Intermediate)

Day two only, up to 6.5 hours
---
Join us in St. Louis, MO this September for our Special Needs Planning & Veterans Pension Planning Immersion Camps. Attend one course or both, either way this is three days worth of education that you will not want to miss!
Special Needs Planning Immersion Camp

September 13-14 in St. Louis
View Agenda | Register

This camp we will provide you with legal expertise you need to begin serving disabled individuals in and around your area. Special needs planning is a rewarding practice area. This program provides a solid foundation for practitioners entering this complex and dynamic part of law. After completing this course, you will be able to confidently take on your first cases and build on your knowledge base. The rewards are both financial and personal as you help those in our society who have been historically underserved, but are a substantial segment of our population. We look forward to an intense and enjoyable program.

Up to 9.5 CLE

Veterans Pension Planning Immersion Camp

September 15-16 in St. Louis, MO
View Agenda | Register

There are over eight million Veterans in the United States and nearly all of them may be eligible for VA Pension benefits. The Veteran's Administration (VA) offers a monthly cash payment to wartime veterans who meet certain service requirements. These benefits may also go to the spouse of a deceased veteran. The opportunities for an elder law attorney who provides service to veterans are vast. Attend this program and gain the knowledge and confidence you need to be profitable in this area of law. This one and a half day course will enable you to grow your practice and to provide legal services to an underserved population.

Up to 9.5 CLE
Satisfies 3-hour VA initial and continuing CLE requirements in all 50 states.